Face Masks in Head Start Programs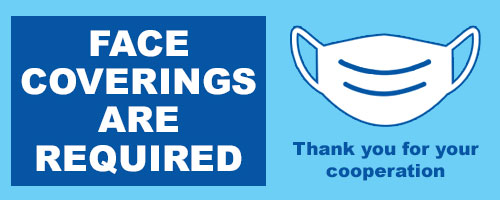 ---
Face Masks in Head Start Programs
Wearing face masks helps stop the spread of COVID-19. Read this guidance from the Office of Head Start about wearing masks in Head Start settings.
How Masks Keep People Safe
The SARS-CoV-2 virus that causes COVID-19 spreads among people through the air when you breathe, talk, laugh, or sing. You do not have to feel sick or be coughing and sneezing to spread the virus. Masks are a simple and effective way to protect yourself and the people around you, especially when you and the people near you wear a mask, too. Masks in Head Start settings are especially important to protect children who are not eligible for a COVID-19 vaccine. Using program funds to purchase masks for staff and children 2 years of age and older is an allowable expense.
When to Wear a Mask
Staff model safe behavior when they wear masks. This also protects children who are not yet eligible for vaccines.
Indoors: Everyone who is 2 years of age and older must wear a mask in indoor Head Start settings with these exceptions:
Children who are eating or drinking, napping, or brushing teeth

A child who has a special health care need, and their health care provider advises the family that their child should use an alternative face covering

Children who cannot safely wear a mask because of a disability as defined by the Americans with Disabilities Act (ADA)
Everyone 2 years of age and older must also wear a mask when two or more people are in a vehicle owned, leased, or arranged by a Head Start program. Children younger than age 2 should not wear a mask.
Outdoors: People who are not fully vaccinated must wear a mask outdoors in crowded settings or during activities that involve sustained close contact.
Wearing masks in outdoor Head Start settings provides protection for children and adults.
The Centers for Disease Control and Prevention (CDC) defines

close contact

as being less than six feet away from other people for more than 15 minutes.

Children younger than 5 are not yet eligible for

COVID-19

vaccination.

Developmentally appropriate care and safe supervision of young children requires close contact with adults.
Strategies to Help Children Feel Comfortable With Masks
Most children are used to wearing masks and seeing people in masks. It is easier for children to learn new behaviors such as wearing a mask when the adults who care for them model the behavior they want children to learn. Predictable and consistent routines for mask wearing can help young children feel more comfortable and know what to expect.
Children should never be disciplined for not wanting to wear a mask. Treat mask wearing as an emerging skill. Help children learn how to wear a mask consistently to be healthy and safe by showing them how to wear their mask so it fits securely over their mouth, nose, and chin. Help children find a mask that is comfortable and that they can keep on all the time. Give positive feedback to children for their efforts and keep it playful!
Some toddlers and very young children may need more support because masks hide people's faces, which makes it harder to read facial expressions. Find strategies in this tip sheet to support children's emotional learning by helping them understand emotions when people are wearing masks.
Children may enjoy decorating their masks or wearing a mask that looks like a favorite animal or superhero. Social stories may also be helpful. Children love to read stories that include their pictures and photos of people they know. You can make your own social story with photos of adults and children in your program.
The American Academy of Pediatrics offers families ideas for helping children get used to wearing a mask. Sesame Street in Communities has created short videos where familiar characters practice wearing masks.
Types of Masks
To protect yourself and others from COVID-19, wear the most protective mask you can that fits well and you will wear consistently.
Different types of masks provide different levels of protection:
Loosely woven and single-layered cloth products provide the least protection.

Multiple layers of tightly woven cloth, including products with filters, offer more protection.

Disposable surgical masks offer more protection.

KN95 and KF94 masks, also called respirators, provide even more protection.

N95s offer the highest level of protection.
Masks for Children
Children need masks that are small enough to fit snugly to cover their nose, mouth, and chin. N95 masks are only made for adults. Some smaller N95s may fit older children, but not young children.
Special Situations
When interacting with people who rely on reading lips, staff may wear a clear mask or cloth mask with a clear panel.
How to Wear a Mask
To work effectively, all masks for children and adults must fit snugly and be worn consistently. A well-fitted mask keeps the virus from leaking in or out around its edges. Masks also help block the virus from coming through the mask. To be effective, masks:
Must cover the mouth, nose, and chin.

Can fasten around the ears or back of the head.

Need to stay in place when you talk and move.
Follow manufacturer instructions for fitting, putting on, and removing N95, KN95, and KF94 masks.
Replace masks immediately if they become wet, soiled, or damaged. In addition:
Use a clean mask every day.

Wash cloth masks and dry them completely before reuse.

Dispose and replace filters daily if your cloth mask has a filter.

Surgical masks cannot be reused and should be thrown away at the end of each day.
N95 or KN95 masks can be reused. Throw them away when:
They become wet, soiled, or damaged.

The straps become loose, or the mask no longer fits snugly.
Handling Masks
Wash your hands for 20 seconds with soap and water before and after touching your mask (such as when putting it on or when taking it off).

Wash your hands before and after helping a child with their mask.

Try to touch only the ear loops or ties. Avoid contact with the part of the mask that touches the mouth and nose, because it may have virus particles on it.

When children are eating, brushing teeth, or napping, store their masks in a paper bag or breathable container labeled with their name.

Put a wet or dirty cloth mask in a bag labeled with the owner's name, and make sure it gets washed. Wash your hands after putting a dirty mask in the laundry.
For more information, see CDC's Your Guide to Masks and Types of Masks and Respirators.
Current as of February 2022